Social Initiatives
Relationships with the Local Community
Participating in locally hosted events
Umekita Plaza of GRAND FRONT OSAKA is the site where the Umeda Yukata Matsuri, a summer event in the Umeda area, is hosted, and in addition to hosting Bon festival dances and customer participation-type Uchimizu events, it is also the event site for the Umeda Snowman Festival.
The Umeda Yukata Matsuri, run by Umeda Area Management Alliance (Osaka Station District) as part of their activities, is a local event aimed at further improving the area's attractiveness, under the theme of "yukata," which is a part of traditional Japanese culture.
We also offer the open space of Hankyu Corporation Head Office Building as event sites for locally hosted events such as the Umeda Yukata Matsuri, the Umeda Snowman Festival, and 1 Million People's Candle Night @ OSAKA CITY.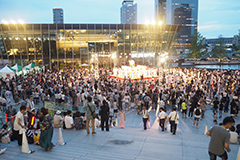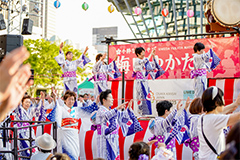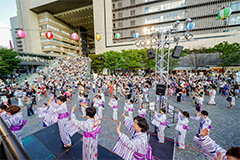 <the Umeda Yukata Matsuri>
Concluded disaster cooperation agreement
Takatsuki-Josai Shopping Center has concluded a disaster cooperation agreement with Takatsuki City, and will offer its parking lot as a temporary evacuation site for people living in the area and as an emergency vehicle base in the case of a disaster.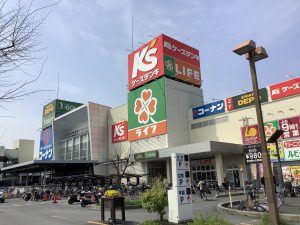 Introduced a trial run of bike sharing
Kitano Hankyu Building has introduced a trial run of bike sharing operated by DOCOMO BIKESHARE, INC. and contributes to reducing the environmental load by mitigating traffic congestion in the city center. Moreover, this also contributes to the development of local industry as transportation infrastructure for commuting, business, and tourism.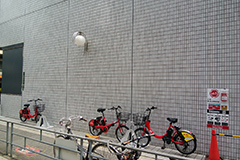 Implemented a park-and-ride
Dew Hankyu Yamada has implemented a park-and-ride on its rooftop parking lot.
A park-and-ride, is a method of commuting whereby people park their automobiles in parking lots with public transport connections, and transfer to public transportations such as railways and fixed-route busses. It is a transportation policy that is promoted as a way to mitigate traffic congestion in city centers and tourist sites, suppress traffic pollution, and reduce illegal parking, etc.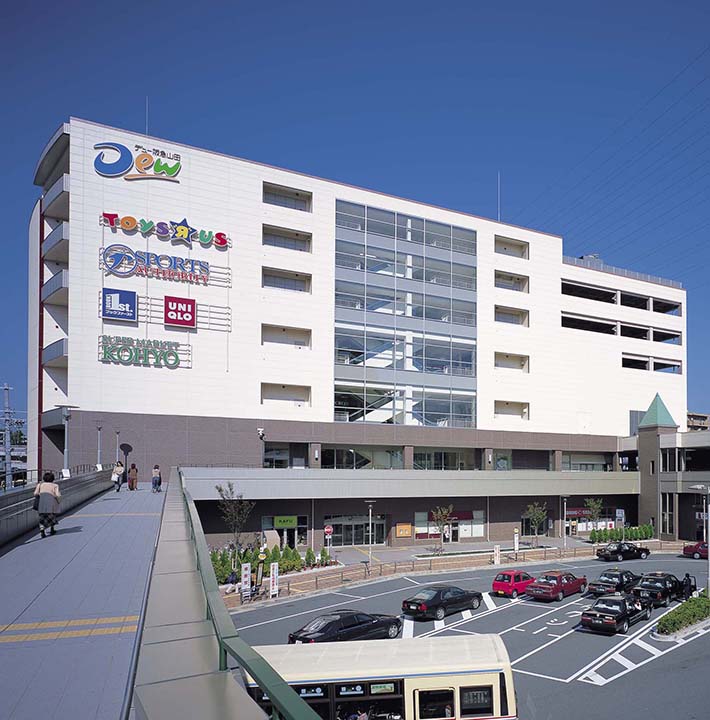 Supporting startups
On the first floor below ground at HEP Five, we have set up the "FIVE LAB," which is a pop up space that collects and dispatches popular contents. It provides opportunities for creators and EC shops to make sales at functions, and supports the opening of actual stores. In the spring of 2019, one member who had participated in our events became an official tenant who opened shop.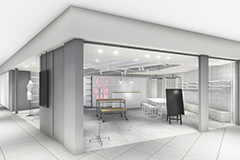 Hankyu Nishinomiya GALLERY / Stajimo NISHINOMIYA
At the Hankyu Nishinomiya GALLERY located on the fifth floor of HANKYU NISHINOMIYA GARDENS, events that took place at the Hankyu Nishinomiya Stadium are on exhibit, such as famous moments and memorial items of the Hankyu Braves, a professional baseball team that Hankyu Corporation used to own, videos about the history and culture of Hankyu Corporation, and a diorama model that recreates the area around Nishinomiya-kitaguchi Station in 1983. In the same gallery is the "Stajimo NISHINOMIYA" which provides a space for locals to "gather," "connect," and "create." This enables the vitalization of the community, allows people to conduct activities that create an attachment to the locals along the railways, and creates the value of the line-side areas.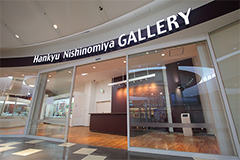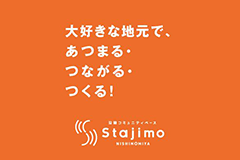 Participating in the Hankyu Hanshin Mirai no Yume Machi Project
Our sponsor, Hankyu Hanshin Holdings Group conducts the Hankyu Hanshin Mirai no Yume Machi Project, and the employees of HHRAM also participate in this project.
[Overview of Hankyu Hanshin Mirai no Yume Machi Project]
https://www.hankyu-hanshin.co.jp/yume-machi/top.html (in Japanese)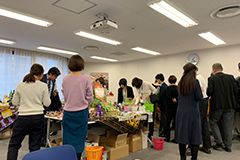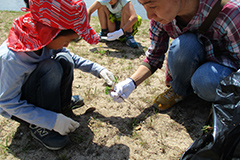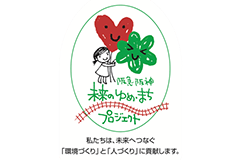 Relationships with Tenants
Employee satisfaction surveys
With the cooperation of Hankyu Hanshin Building Management Co., Ltd. a property management company, we conduct regular employee satisfaction surveys at the properties owned by HHR listed below, and aim to improve employee satisfaction and increase the value of facilities, through improvements based on the survey results.
Properties with employee satisfaction surveys
HEP Five, HANKYU NISHINOMIYA GARDENS, Dew Hankyu Yamada, GRAND FRONT OSAKA
Training for employees of tenants
At HEP Five, HANKYU NISHINOMIYA GARDENS, and GRAND FRONT OSAKA, we conduct various training sessions aimed at helping the employees of tenants in their careers, including basic mannerism training, customer service training, color coordination training, and VMD training.
HANKYU NISHINOMIYA GARDENS and GRAND FRONT OSAKA have sent participant to the national customer service role playing contest hosted by Japan Council of Shopping Centers. In addition to improving the skills of the employees, we work to improve the enjoyability of customers who use the facilities.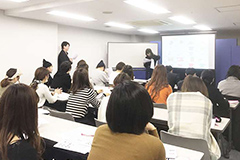 Hosting social gatherings and trips for employees
At HEP Five, HANKYU NISHINOMIYA GARDENS, and GRAND FRONT OSAKA, we contribute to improving employee satisfaction and promoting employee communication by hosting one-day bus trips, musical viewings, and social gatherings for the employees of tenants.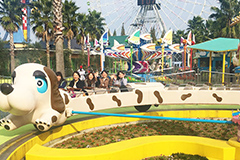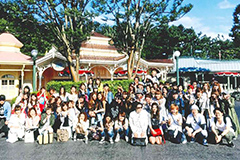 Providing building environments that makes it easy to work
Shiodome East Side Building has prepared an environment where employees can easily purchase lunch within the building, and works to improve tenant satisfaction. In addition, a shelf and boards used when changing clothes have been installed in the ladies' rooms, supporting the comfortable office work of female employees who work at this building.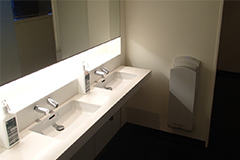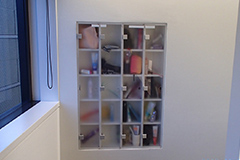 Award history
HEP Five has received the ES Award multiple times at the Developer and Tenant Awards hosted by SENKEN SHIMBUN CO., LTD., and HANKYU NISHINOMIYA GARDENS received the Gold Award at the Japan SC Awards in 2013 as the first commercial facility ever to receive the award outside of the Tokyo metropolitan area.
Initiatives towards employees of HHRAM
Due to the provisions of the Act on Investment Trusts and Investment Corporations (hereafter "Investment Trusts Act"), HHR cannot hire employees. As such, its assets are managed by the employees of HHRAM. We believe that each and every employee related to the business is an indispensable asset, and in addition to working to create a healthy work environment where employees can maximize their various personalities and abilities, it also aims to improve business competitiveness through proactive personnel development.
Health management
Hankyu Hanshin Holdings Group holds "respect for people" as one of its most important values and believes that the health of its employees and their families is the cornerstone of the company's future.
In order to instill a clear awareness of health in our employees and their families, from the viewpoint of "health management," we have also established a "declaration on employee health management" (in Japanese) in order to promote the improvement of health awareness in each and every employee and the realization of a comfortable workplace.
Recognized as 2020 Certified Health & Productivity Management Organization (SME category)
The Certified Health & Productivity Management Organization Recognition Program is a program that Minister of Economy, Trade and Industry examines large enterprises, SMEs and other organizations that are engaging in health-conscious activities in collaboration with health insurance society members and promoting such activities led by the Nippon Kenko Kaigi, and recognizes outstanding enterprises engaging in efforts for health and productivity management.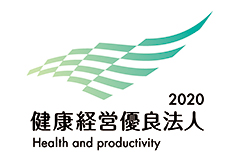 Received an Encouragement Award for the 5th Osaka Prefecture Health Management Award (workplace category)
Osaka Prefecture Health Management Award is an award that Osaka Prefecture recognizes outstanding organizations that are actively performing in health-conscious activities in Osaka prefecture in order to encourage and spread individual initiatives of health management.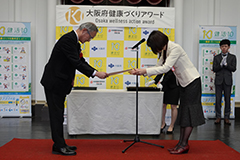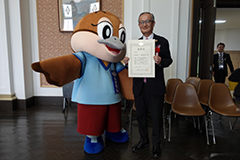 Initiatives by the Project Team
We have introduced many programs effective in promoting health and communication among employees.
Vegetable Catering Service introduced for offices
Healthy Bento (lunch box) DAY
Radio Gymnastics Time
Walking events
Property inspection tours, etc.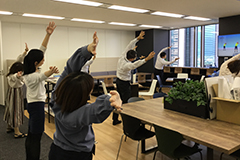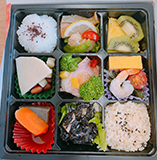 Work environment
Personnel development
We have put various training policies in place with the purpose of improving the skills of its employees. Beginning with specialty skills needed for real estate investment management operations, it also provides training to improve human skills, compliance training, and training concerning sustainability, etc.
In addition, it has also implemented an incentive system to acquire qualifications for professional personnel development.
As of May 31, 2020

| Name |   |
| --- | --- |
| Real Estate Appraiser | 2 |
| ARES Certified Master | 16 |
| Real Estate Transaction Agent | 16 |
| Certified Building Administrator | 14 |
| Shopping Center Business Administrator | 1 |
| TOEIC SCORE over 850 | 2 |
| EIKEN Test in Practical English Proficiency Grade Pre-1 | 1 |
| EIKEN Test in Practical English Proficiency Grade 2 | 1 |
| Certified Public Accountant | 1 |
| The 1st Class Architect | 1 |
| The 2nd Class Architect | 1 |
| Building mechanical and Electrical engineer | 1 |
| The Official Business Skill Test in Book-keeping Grade 1 | 1 |
| The Official Business Skill Test in Book-keeping Grade 2 | 6 |
| The 1st Class Health Supervisor | 1 |
Office environment
Upon office expansion, a collaboration space was added after taking employee opinions into consideration. The new space will promote ease of work and communication.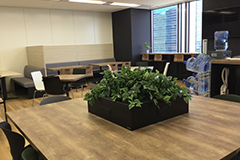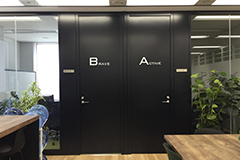 Work-life balance
Introduction of flextime system
With the purpose of improving productivity, the flextime system (without core time) was introduced starting in August 2019, which gives employees the choice of when they will work, including daily start and end times, and enables them to work efficiently while balancing life and work.
Combined with the flextime system, a work interval system was also introduced, which sets a certain interval of time between the time employees leave work until they can start again. In this way, we are also making considerations to prevent long work hours.
Health management
By conducting regular health examinations and covering the costs of influenza vaccinations, we are engaged in maintaining and improving the health of our employees.
Diversity
Respecting human rights, preventing harassment
We respect the diversity of each and every employee and believe that mutual acceptance is indispensable to sustainable growth, and the sponsor group takes initiative as one body by conducting human rights training, conducting surveys, and increasing the number of consultation service counters. Moreover, we have also established an external harassment consultation counter and direct people towards this service.
Promoting women's success
We are creating an environment where female employees are able to realize their potential and succeed as part of our diversity acceptance measures.
Personnel data
Personnel data
Fiscal 2019
Number of full-time directors
5
Number of employees
(by gender)
 
35
Male
20
Female
15
Number of employees
(by type of employment)
 
35
Number of regular employees
10
Number of seconded employees
21
Number of contract employees
4
Attendance rate for training
100%
Health examination rate
100%
Number of employees on child care leave
1
Number of employees on family care leave
0
Securing Safety and Security
By delivering "Safety and Comfort" and "Dreams and Excitement," Hankyu Hanshin Holdings Group creates satisfaction among our customers and contributes to society.
Safety and security of owned properties
Ever since the Great East Japan Earthquake (2011), interest in the seismic resistance of buildings has risen extremely high. In order to secure business continuity in the face of natural disasters and epidemics, etc., HHR has prepared various measures to minimize damage and speed up recovery.
Preparing for seismic risks - utilizing PML value
The probable maximum loss (PML) refers to the forecasted maximum loss that could be incurred due to an earthquake.
The PML is indicated by the ratio of forecasted replacement costs assuming maximum material losses against the largest earthquake that can be expected during the use-period of a building (475-year return period = 10% chance of exceedance in 50 years), and the lower the ratio, the lower the expected losses. When deciding upon the acquisition of a property, HHR will check its PML value and will not acquire the property if the PML value does not meet a certain standard.
For the PML values of each property in the portfolio, please refer to the "Portfolio List."
Systematic repairs and CAPEX
HHR conducts repairs systematically according to the age of properties, etc., in an effort to prevent unforeseen accidents and minimize damages during disasters.
[Examples]
Waterproofing work on the roof of Takatsuki-Josai Shopping Center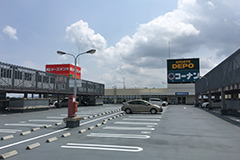 Repairing the exterior wall at Dew Hankyu Yamada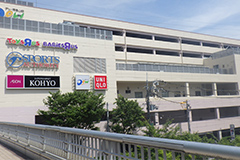 Providing lifelines and disaster protection centers
HHR's properties provide lifelines and disaster protection centers to its customers during natural disasters.
[Examples]
Takatsuki-Josai Shopping Center
It has a disaster cooperation agreement with Takatsuki City, and will provide an emergency vehicle base in the case of a disaster.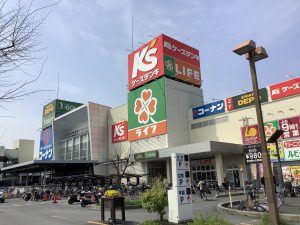 HEP Five
It has first-aid kits, disaster prevention equipment for people who are temporarily prevented from returning home, and has been designated as a primarily evacuation site based on the "Plan to Secure Underground Evacuation Space in Umeda."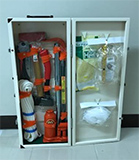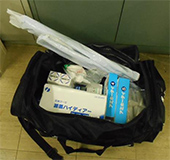 Dew Hankyu Yamada, Takatsuki-Josai Shopping Center
These properties will provide food and disaster prevention goods, etc., to local residents in the case of a disaster.
Safety and security of customers and tenant employees
Conducting fire drills
Fire drills are conducted at HHR's properties in accordance with the Fire Services Act, which includes training on how to use fire extinguishers and first aid measures, etc., with the assumption that these will be put into practice.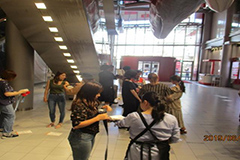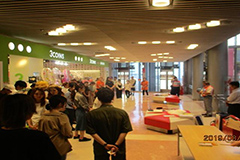 Storing emergency goods
At some of HHR's properties, emergency goods boxes have been set up, which contain items that are necessary if one was to be locked in an elevator during an emergency. At HEP Five, disaster prevention equipment, to be used by people who are prevented from returning home, are stored in sofas (disaster prevention chairs) installed on every floor of the building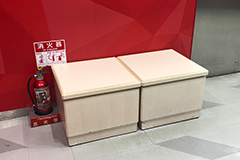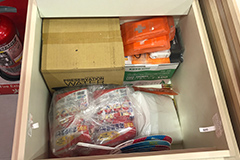 Installation of rat proof ultrasound equipment
At Shiodome East Side Building, rat proof ultrasound equipment has been installed. By installing these devices, rats are kept away without using poison for unnecessary killing, and we provide a safe and enjoyable office environment to tenant employees.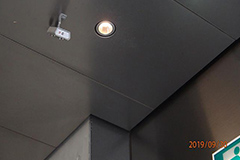 Safety and security of HHRAM's employees
Promoting disaster prevention and BCP measures
Under the policy that human resources are its most important corporate resource, HHRAM conducts various initiatives to secure the safety and security of employees.
[Examples of activities]
Establishment of business continuity plan (BCP)
Establishment of initial response manual for large-scale disasters
Implementation of confirmation of safety services
Implementation of disaster prevention drills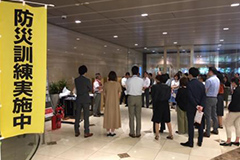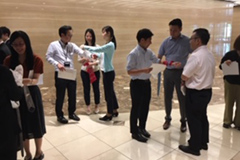 Distribution of disaster prevention goods and storage of emergency goods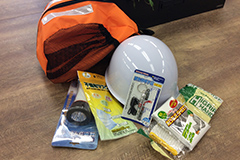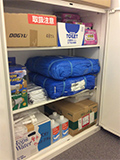 Dialogue with Unitholders and Investors
Regarding information disclosure
Recognizing sufficiently that replete information disclosure can largely impact the development and success or failure of the real estate investment trust market, HHR will stand in our unitholders' shoes and disclose information from the perspective of "timeliness" and "fairness."
Information will be disclosed in line with the details and methods outlined in the Financial Instruments and Exchange Act, in the Investment Trust Act, by the Tokyo Stock Exchange, Inc., and by The Investment Trusts Association, Japan.
A system for the accurate and timely collection of information has been established, and we work to disclose information to our unitholders while making considerations for transparency and comprehensibility.
We work to proactively disclose information that is deemed important for making investment decisions, even for information that is not indicated in information disclosure legislation.
Status of IR activities
We work to disclose information in a timely manner through our website including statutory disclosure documents, press releases, financial results information (financial statements, financial results, materials for analyst briefing), characteristics of managed assets, and performance status, etc.
Each fiscal period, we hold an analyst briefing on the operating status and the financial outlook, etc., for domestic institutional investors, lenders, and other interested parties. In addition, we hold approximately 50 to 70 one-on-one meetings for institutional investors.
For our overseas investors, we hold six IR events a year, focusing mainly on North America, Europe, Australia, and Asia, and hold approximately 50 one-on-one meetings. In addition, we also proactively participate in conferences held by securities companies in Japan.
For our individual investors, we hold a meeting updating our operational status in Tokyo and Osaka once a year (institutional investors can also participate). Moreover, we also proactively participate in private investors seminars held by the Association for Real Estate Securitization, the Tokyo Stock Exchange, and securities companies, etc.