Governance Initiatives
Corporate Governance
Governance initiatives
HHR shall have at least one Executive Director(s) and at least two Supervisory Directors (and at least one more Supervisory Director than the number of Executive Directors).
The organization of HHR is comprised of the General Unitholders' Meeting featuring unitholders, in addition to one Executive Director, two Supervisory Directors, the Executive Meeting, which includes all Executive Directors and Supervisory Directors, as well as the Accounting Auditor.
For details, please refer to Company Structure, Executive Directors.
Executive pay
HHR shall pay monthly remuneration to Executive Directors at an amount decided by the Executive Meeting, up to an amount equivalent to 800,000 yen per month for each executive director, and Supervisory Directors at an amount decided by the board of directors, up to an amount equivalent to 600,000 yen per month for each Supervisory Director, no later than the last day of the relevant month.
Amounts of Executive pay are disclosed in Semi-Annual Report.
Overview of the Asset Management Company
Asset management of HHR has been entrusted to Hankyu Hanshin REIT Asset Management, Inc., the Asset Management Company.
As for the Organizational Structure of the Asset Management Company, please refer to Asset Management Company.
Decision-making structure for investment management
HHRAM establishes Regulations for Asset Management and Operational Guidelines, and sets forth basic approaches to investment management including investment policy, rules on transactions involving interested parties, and disclosure policy, etc.
Furthermore, HHRAM establishes asset management plans in accordance with the Operational Guidelines, and makes decisions on acquisitions and other matters concerning asset management according to the investment policy and rules on conflict-of-interest transactions set forth in the Operational Guidelines.
Decision-making flow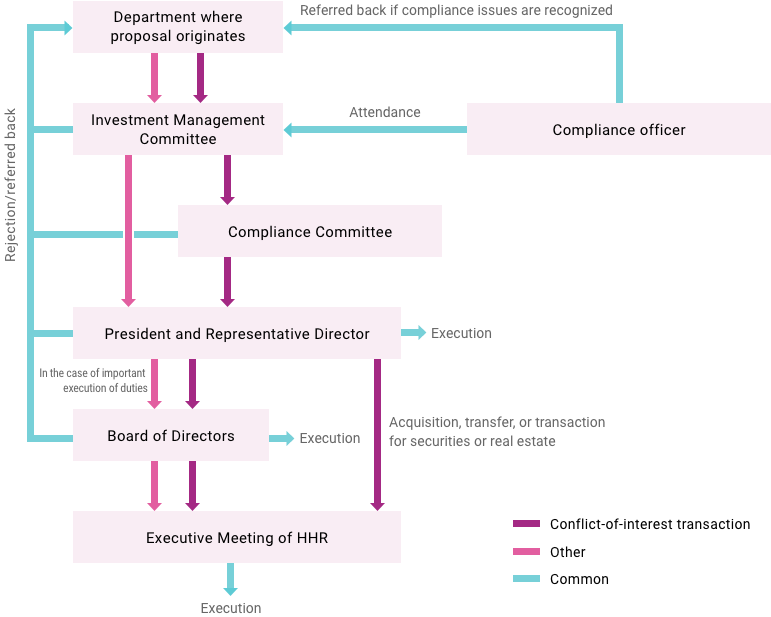 Initiatives towards conflicts of interest
HHRAM will accurately grasp potential conflicts of interest with the sponsor group, etc. If there is a potential conflict of interest with regards to transactions, HHRAM will appropriately manage such conflict of interest by having the Compliance Department verify the transaction prior to execution pursuant to laws and regulations as well as internal rules, and, when necessary, having the Compliance Committee that includes outside experts deliberate in advance while also obtaining prior approval at HHR's Executive Meeting.
Management remuneration system
The management remuneration system has been changed for the purpose of improving investor value.
By heightening the linkage between the amount of management remuneration and the interest of investors, HHRAM will have an incentive to improve the quality of the portfolio.
| Name | Calculation method |
| --- | --- |
| Management Remuneration 1 | Total assets at end of previous fiscal period × 0.15% |
| Management Remuneration 2 | Distributable amount per unit during the concerned operating period × NOI × 0.0011% |
| Remuneration upon acquisition | Acquisition price of real estate-related assets × 0.5% |
| Remuneration upon transfer | Transfer price of real estate-related assets × 0.5% |
| Remuneration upon merger | Appraisal value of assets to succeed × 0.5% (maximum) |
The above management remuneration system was approved at the 11th General Unitholders' Meeting of HHR held on August 25, 2020. Furthermore, the effective date for remuneration upon acquisition, remuneration upon transfer, and remuneration upon merger is September 1, 2020, and that for management remuneration 1 and 2 is December 1, 2020.
Compliance
Compliance
HHR and HHRAM build robust compliance and internal audit systems by systematically ensuring multiple check functions based on Basic Policies Concerning Compliance.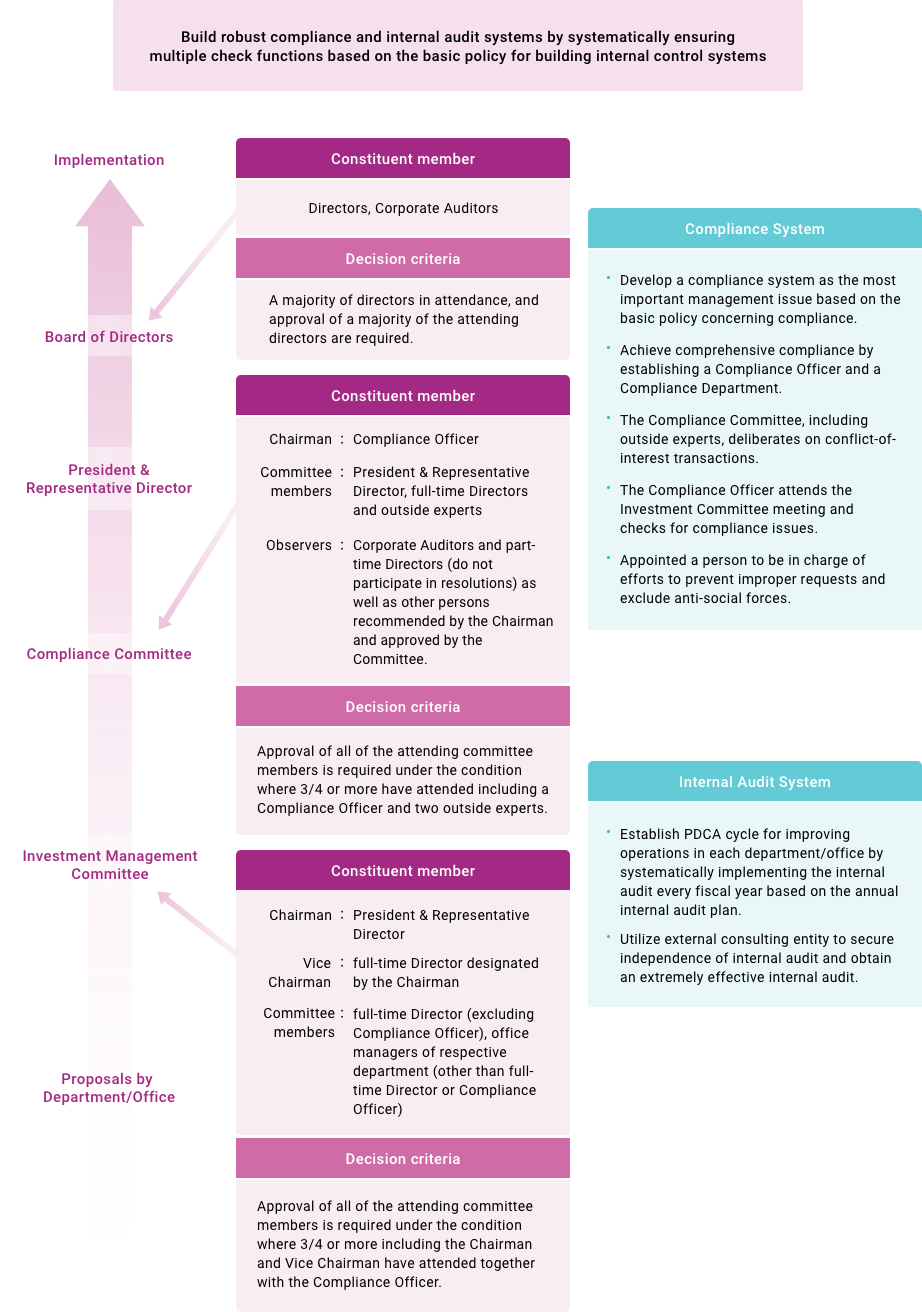 Compliance training
HHRAM invites external lecturers to conduct training targeting all of its officers and employees with the purpose of having them observe compliance and developing an awareness. In addition, training for managers and transferees is also provided by in-house lecturers in a timely manner.
<Major themes in fiscal 2020 (provided by external lecturers)>
Fiduciary duty
Insider, sensitive corporate information
Conflict of interest, outsourcing
Overall information management
Financial Instruments and Exchange Act, etc.
Risk monitoring by HHRAM
HHRAM strives to enable accurate prevention activities for various risks surrounding business and appropriate response activities for crises when risks become apparent based on the risk management regulations and risk management manuals established by HHRAM.